Several news agencies have released forecasts on Wednesday morning showing Tropical Storm Isaac, set to be a Hurricane by Thursday, on a crash course with South Florida as early as Monday.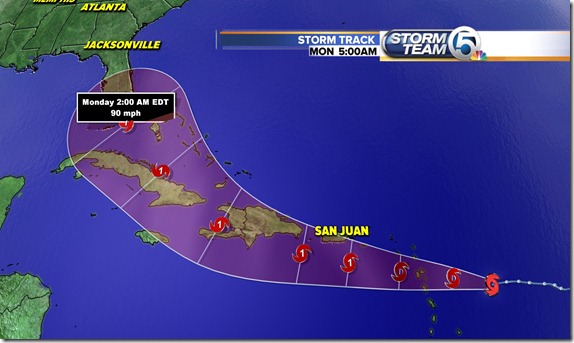 The latest track for Isaac posted by Meteorologist Kait Parker shows the storm reaching South Florida shores as early as 2:00 a.m. on Monday, August 27th.
Republican Convention Worries
One worry is that the hurricane could reach Tampa on Tuesday when Republicans gather for the 2012 GOP Convention.
"It is too early to determine what, if any, impacts might be experienced in the Tampa area next week during the RNC," said Dennis Feltgen of the US National Weather Service.
____________________________
Whether or not Hurricane Isaac affects your region, it is always important to be prepared with a Hurricane Checklist (Coming Soon).
____________________________