Last Saturday I went to A'dam Good Bar & Grill'd with my sweetie to watch the UFC 149 fight. The UFC fights?  Not so entertaining this time around, sorry Dana. However, the drinks, atmosphere & food? Great!
We went out to watch the UFC fight so what attracted me first about A'dam Good Bar & Grill'd were the projectors hanging from the ceiling and projected onto over 100 inch screens on three different walls. Oh yeahhh. The next thing I noticed was the kitschy, Americana décor. Everything from the leg lamp light at the entrance, a humongous Dairy Queen sign, Christmas lawn ornaments and the menus laminated on old record covers.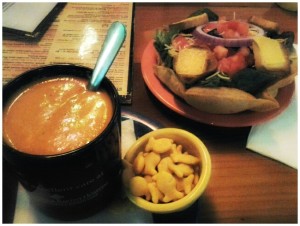 We had just ate dinner but we wanted to at least have something to eat with our drinks. We started with a house salad and a roasted garlic tomato bisque. The house salad was served in a tortilla bowl and the best part were the croutons. The "croutons" were tiny pieces of toast with a slice of cheese on top. Super cute. The roasted garlic tomato bisque (topped with sundried tomatoes) was served in mug with the logo of a local hospital and came with a side of Goldfish crackers in a condiment cup. What an awesome and budget friendly touch to have an eclectic array of mugs to give off that warm, homey feel.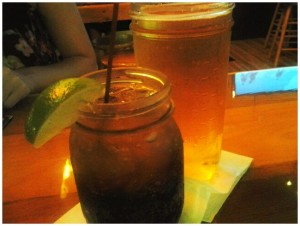 As we watched the fights, we kept our whistles wet with Angry Orchid Cider (currently on tap!) and Captain Morgan and Coke. Both were served in Ball Mason Jars which was awesome. (Even our check came in a small ball mason jar). As I mentioned earlier, I wasn't that hungry but as I kept skimming the menu I knew I had to try the "A'dam Good Quesadilla". The two words that caught my eye were, "Goat Cheese". Man, oh man. The other amazing ingredients included: bacon, roasted garlic, grilled onion, wilted spinach and the quesadilla is served with a black bean and roasted salsa. The best quesadilla I've ever had was at an authentic Mexican restaurant in Baltimore but the "A'dam Good Quesadilla" is definitely a front runner for second place.
Overall, A'dam Good Bar & Grill'd is a nice addition to the restaurants along University Drive. I'm looking forward to trying their "Popeye Spinach Pie" sandwich next and popping by for their late night menu specials. Oh and by the way, if you have grilled cheese tattoo, you'll get 20% off your bill. You should definitely give them a try and maybe I'll see you the next time you make your way to A'dam Good Bar & Grill'd in Coral Springs.
———————————————————————
"A'dam Good Bar & Grill'd is a casual full service restaurant offering gourmet grilled cheese sandwiches, hand-cut fresh French fries, soups, salads, cocktails and ice cold beer."
Website: http://www.adamgoodbarandgrilld.com/
1933 North University Drive
Coral Springs, Florida 33067
954.752.4008