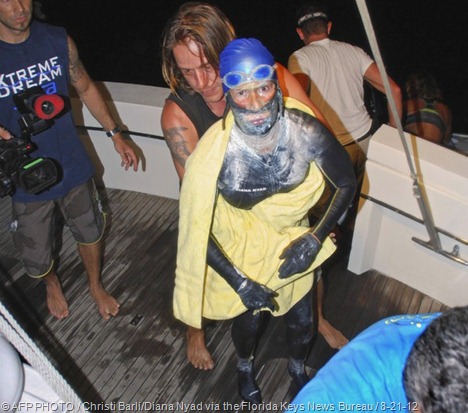 Swimmer Diana Nyad, who turns 63 on Wednesday, cancelled her fourth attempt to swim from Cuba to Key West on Tuesday morning, citing storm squalls and jellyfish. Last year's attempt was thwarted by ocean swells, shoulder pain, and asthma.
The swimmer's representative Mark Sollinger reported that Nyad had been pushed off course by an "extremely difficult" Gulf Stream. She was just 50 miles short of success.
The last successful swim from Cuba to Key West, Florida was accomplished by Susie Maroney in 1997, who completed the attempt in 23 hour, 47 minutes and used a shark cage for safety, according to the Los Angeles Times in 2011.
Instead of using a shark cage for protection, Diana Nyad was followed by kayaks with underwater electrical shields that emitted a frequency intended to repulse sharks.
A Reuter's report claims that this was likely Nyad's final attempt.
Something tells me that after four attempts, this will not be the last one!