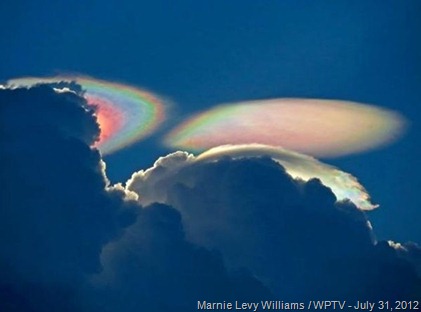 The amazing dome-like rainbows captured in the picture above were seen on Tuesday (July 31, 2012) in the clouds over South Florida, earning the nickname "fire rainbows."
According to NASA, they are technically called iridescent clouds, and are caused by clouds of water droplets of nearly uniform size.
The Weather Channel says the rare phenomenon of an iridescent cloud is caused by fast growing thunderstorms that shove air into the upper atmosphere through a layer of moisture. This creates a fog-like cloud that looks like a glowing dome atop a thunderstorm.
The color of an iridescent cloud, or fire rainbow, changes depending upon one's position relative to the sun and the object.
Did you have a chance to see this rare occurrence? Leave a comment and tell us about it, or send your pictures to ILoveSouthFlorida@gmail.com!