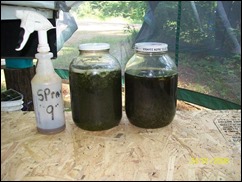 South Florida in the summer can be full of bugs and pests that will eat all of your precious plants and make you want to stay indoors.
As a result, most people resort to pesticides that can be harmful to them and the environment. Few people know that it is possible to make your own homemade pesticide spray – free of chemicals!
Here is how:
1.  Finely chop up a head of garlic and place them in a dish.

2.  Pour in 1 1/2 cups of mineral oil or any oil you may have available, then mix with the chopped garlic.

3.  Pour in a tablespoon of mild liquid soap, then mix the 3 ingredients.

4.  You may add hot peppers, hot sauce, or onions to strengthen up the mixture. I would not add in more than 4 tbsp of hot sauce, hand full of chopped onions, or 4 hot peppers.

5.  Pour the mixture into a sealable container and let it sit over night. Some let the mixture sit for 72 hours in room temperature.

6.  Add 3 to 4 cups of water into a spray bottle and then add the mixture and shake. You may want to sieve the mixture to remove chunks of vegetables that may cause blockage.
Too lazy or don't have the time to make your own natural pesticide spray? You can always get a 32oz bottle of Orange Guard on Amazon for less than ten bucks, which uses orange peel extract as one of its main ingredients.
See Also: How To: Make a Homemade Mosquito Trap
Related articles across the web