Let me start this article off by saying I'm a cat person. Always have been and always will, but a little puppy came into my life and has won a piece of my heart over. His name is Thunder and was adopted a few weeks ago by my boyfriend from the Humane Society of Broward County. He is a 4 month old black lab and is oh so sweet and playful. In these hot summer days, I've found fun ways to keep little Thunder cool. Check out my list of 5 ways to keep your doggy cool during summer or since we're in south Florida, you can always refer to this list year-round!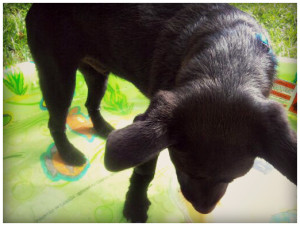 1. Swimming pool
We took Thunder to his grandma's house for his first swimming lesson. He enjoyed the water and already loves jumping in the air and into the pool. Unfortunately, we don't have a pool but we got a little wading pool from Toys R Us for him to use on the days he can't make it over to grandma's house. He likes bringing his chew toy and eating frozen treats while hanging in the pool.
2. Hose
If you don't have a pool or space for a kiddie pool, just a good ol' hose attachment works great! We have a hose sprayer with six different functions so we can spray a soft mist or a stream for him to drink from. You can also set up a lawn sprinkler attachment that moves back and forth for doggy to run through.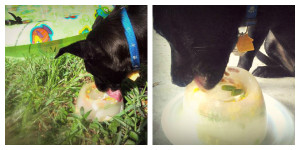 3. Frozen treats and toys
Just the other day I froze a bunch of puppy-friendly veggies, treats and raw-hide strips in a Tupperware container. It helps to freeze the water with the treats and toys in layers so that it is evenly distributed. For even extra flavor, I read you can add a little bit of chicken stock to the water. Thunder went crazy for this treat and you can definitely freeze them in various sized containers depending on your size dog.
4. Fresh water
Something basic, yet very important is to have fresh water available, always. It is especially crucial in south Florida as dehydration is a serious issue for both humans and animals. I like throwing in a few ice cubes as well for extra refreshment. We have a high back water bowl and rubber mat so he can slurp away without too much clean up.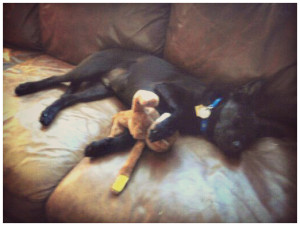 5. Stay indoors
If it's too hot, just stay indoors! We have a long hallway so we play fetch with a tennis ball so Thunder can stretch his legs on those scorching afternoons. While indoors, he can focus well without distractions so we also take "indoor time" as an opportunity to teach him commands and tricks. After some fun, we like cooling off on the sofa and watching TV (or taking naps!).
We haven't had a chance to take Thunder to a dog beach or dog park yet but those are definitely great places for your dog to cool off while soaking up the sun as well! What are some of your favorite South Florida parks or beaches that get two paws up from your pup?
http://www.humanebroward.com
954.989.3977