FINAL TEAMS SELECTED TO TAKE FLIGHT NOV. 3
Chosen Aviators for 2012 Event Announced at Unveiling Party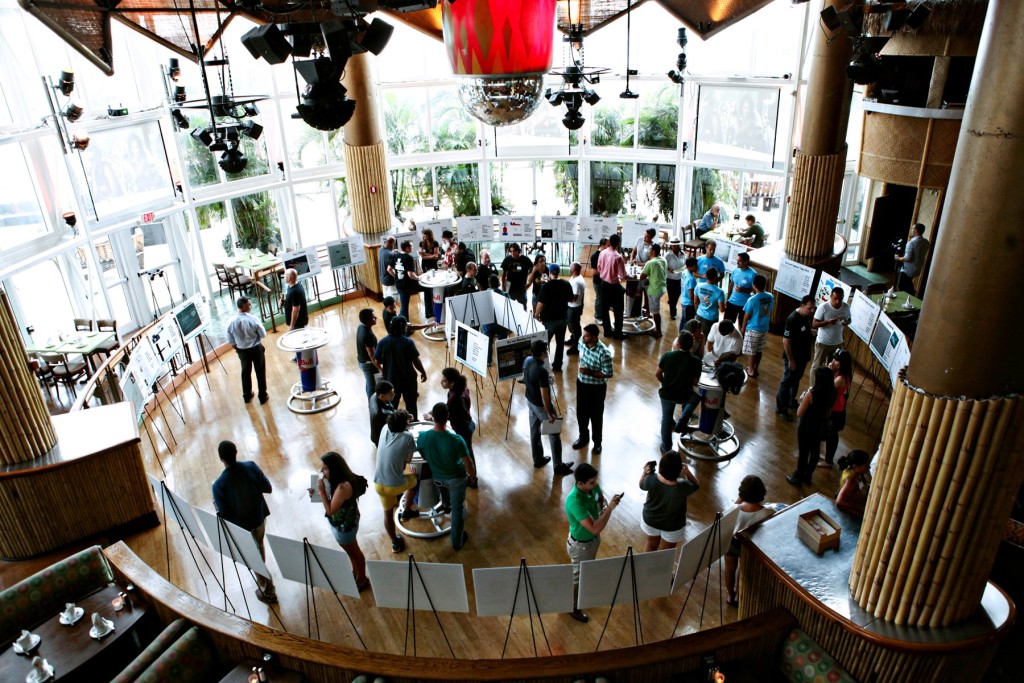 To prepare for Red Bull Flugtag soaring back to Miami this year, Red Bull hosted an unveiling party on Sept. 6 to give "wiiings" to 34 teams chosen to participate in South Florida's flight and fight event on Saturday, Nov. 3. The main event at Bayfront Park will launch at noon to welcome thousands of Downtown Miami residents and visitors to its beautiful waterfront to watch as the avid aviators compete in the flying spectacle that awes millions around the world.
Rock With U Entertainment's Ross Bielejeski kicked off the unveiling party at Bongos Cuban Café by announcing the selected teams as they revealed their imaginative aircraft sketches and team names, as well as took part in a little smack-talking with their competitors. This year's participants are from all over the southeastern United States, with many living locally and around the state, but some hailing from as far as Tennessee, South Carolina and Georgia. From art students and firefighters to engineers and self-proclaimed "pirates," the mix is sure to please the crowd as their crafted handiwork makes its way into the air…before splashing into the sea below.
The teams participating in the 2012 Red Bull Flugtag Miami are: $2.50; Angry Flamingos; Bacon Soldiers; Bakerized; Banana Pelada; Cublice MADNESS!; Da Avincineers; Despicable Me; Dragon Riders; Fins of Fury; Flyin Shiners; Flying Cox; Go Batty; Hurricane Engineers' Angry Birds, I Love LA Eats; La Vaca Roja; Magic Carpet Ride; Mars Attack; Pirates of the Care Free Being: Return of the Castaways; Slamacow; Snow Birds; Space Cadets; Spacecoast Flugtag Associates; Team DarkWing; Team Pirate's Palette; Team Popow with the Flying Chaparro; Team Signal 20s; Team Venezuela; The Iron Manning Iron Men; The Oatmeal Effect; The Shock Guys; Tobacco Road's Band of Road Warriors; Twisted Sister; and UNF SAME.
"After the thrill of traveling to compete in Red Bull Flugtag Tampa last year, we knew we had a to make a second go of it this year now that it's back in our hometown of Miami," said Mitch Phillips of the Hurricane Engineers' Angry Birds. "We're even more excited about this year and plan on using our engineering knowledge to create something that's set to take home the prize, all while having a blast and making sure everyone knows it."
Teams of four flight crew members and one pilot will not only compete in their distance from the launch pad, but also on innovation of their crafts and costumes to impress the judges. Before watching the teams fly – at least for a few seconds – guests will also have the opportunity to meet participants, view their aeronautical inventions and vote for their favorite to win the "People's Choice Award." Each team will also perform a 30-second skit to win over the judges and crowd.
AIM FOR THE SKY
Flugtag, German for "flying day," is a competition that dares the brave and tests the brainy to design, build and pilot homemade aircrafts off a 30-foot high ramp in hopes of achieving human-powered flight. All aircrafts are entirely human-powered – no motors or stored energy such as slingshots or catapults are used.
Since the first Red Bull Flugtag in Vienna, Austria, in 1991, more than 100 Flugtags have been held around the world, attracting up to 300,000 spectators for a single event. The record for the farthest flight-to-date in the United States currently stands at 207 feet and was set at Red Bull Flugtag Saint Paul in 2010 by team Major Trouble and the Dirty Dixies. The pressure is on for this year's Red Bull Flugtag flyers to blow these records off the charts! The Red Bull Flugtag in Miami will be the third of four Flugtags held this year, with other competitions occurring in Chicago, Philadelphia and San Francisco.
Red Bull Flugtag is free and open to the public. For more information, visit redbullflugtagusa.com. Select photos are attached, but for additional images and video from past Red Bull Flugtag events for editorial use, visit redbullcontentpool.com.