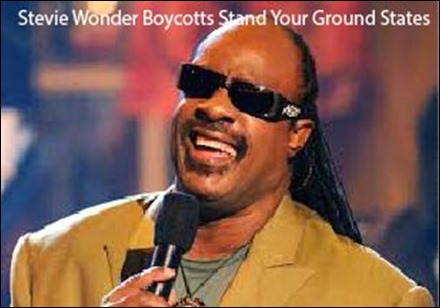 In response to the Zimmerman trial ruling of Not Guilty, Stevie Wonder has vowed to not perform in Florida and other states that currently have "stand your ground" laws implemented.
While performing in Quebec City on July 14th 2013, Stevie Wonder reacts to the not-guilty verdict in the George Zimmerman trial that followed the shooting of Trayvon Martin. In the video, he declares he will not perform in Florida as long as the Stand-your-ground law isn't revoked there, or anywhere else in the world with such a law.
This is a very controversial move on the singer's part, and has caused a lot heated debate in the media and on social media outlets. I'm sure anyone's given view about Wonder's decision depends on their personal views regarding the Zimmerman trial following the shooting of Trayvon Martin and Stand Your Ground laws.
What do you think about Stevie Wonder's decision to boycott states with Stand Your Ground laws or the laws in general?