South Florida is home to some of the richest and most populated cities in the United States, namely Miami, Ft. Lauderdale, and West Palm Beach. The low taxes, diverse industries, and sunny weather attract employers and workers from all different trades in hopes of benefiting from the region's lively economy.
The economy thrives mainly on lucrative industries such as Tourism, Agriculture, Health Technology, and the Space Industry, to name a few. As the global financial crisis continues to unfold, up to a 1,000 people move to Florida every day in search of a better opportunity.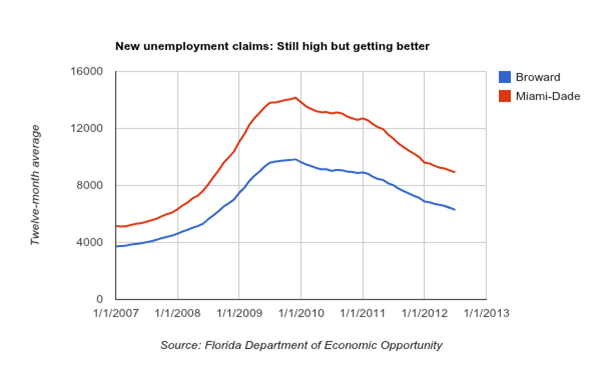 However, South Florida has not been immune to the effects of the global economic turmoil. As the international market began to slow down, so did job opportunities in the area. Industries like Tourism and Service, which are very susceptible to global economic conditions, were hit very hard during the Great Recession. In 2010, Forbes ranked Miami as the third worst job market in the country, with 8.5 people unemployed per job available.
As banks in the region suffer, white collar jobs are beginning to disappear, but plenty of opportunities still exist in fields relating to health care, dining, tourism, and other service industries. This current job market outlook may not be ideal for experienced professionals, who may be asked to take pay cuts, but lucrative opportunities still exist for new graduates and entry level workers who need to make money and get a foot in the door. The competition for jobs in South Florida is extremely high, so it is not uncommon for people with college degrees to be working in jobs unrelated to their field of study, especially if they have student loans to pay off.
Jobs are currently growing at about 1.4 percent a month in the South Florida region, which is still well behind the average of 3.6 percent (out of recession) for the state of Florida. Even though there is record hiring in the healthcare and hospitality industry right now, the housing depression resulted in huge job cuts in the fields of finance and construction, causing growth statistics to remain relatively stagnant despite other positive economic news.
As of 2012, the South Florida unemployment rate improved over the course of a year, leading some to believe the economy may finally be recovering, but there have been false hopes before.
What do you think? Does the economy seem to be recovering, or is this just another false hope? Let us know in the comments section below.