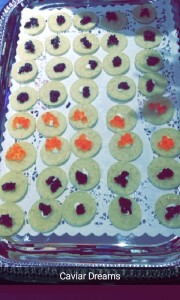 I finally had a chance to try something I've never had before – caviar.
This opportunity was provided courtesy of Bemka – House of Fine Foods and Caviar, a Ft. Lauderdale-based purveyor of caviar and fine foods.
The taste of caviar is interesting, refined, acquired, if you will. There are numerous varieties of caviar from a variety of different species, each one unique in texture and flavor.
I was invited to the 2015 Art Basel Kickoff event in Miami Beach by UIC Marketing and as I arrived to the venue, SuitSupply, I saw something I will never forget – a table full of free caviar samples.
As I walked up to the table, I noticed it was being sponsored by a company headquarted in Ft. Lauderdale called "Bemka – House of Caviar and Fine Foods."
After a short introduction, I learned they sell caviar and fine foods all over the country (for 30 years now!) through their websites CaviarLover.com and HouseofCaviarandFineFoods.com and locally in South Florida by van delivery.
If you are already in Ft. Lauderdale, you can walk right in to their headquarters located by the airport and have your order ready in 10 minutes.
Paddlefish, Hackleback, Herruga, and Salmon Roe
My first taste of caviar was of a species called Paddlefish, and it was delicious. My first portion was on a Mother of Pearls spoon, and I had seconds on a blini topped with creme fraiche, which complements the caviar for extra flavor.
I tried three other varieties, including Hackleback, Herruga, and Salmon. I thought all were unique and delicious, but none as good as my first taste of Paddlefish.
The Hackleback was my second favorite, and more mild. All I can remember about the Herruga hybrid selection was that the eggs were larger and more firm, giving it a different experience when consumed.
The Salmon roe caviar tasted just like Salmon! There isn't much more to say about it than that. It is bright orange, and if you like the taste of salmon, you will enjoy the taste of Salmon Roe.
After indulging me for my first caviar experience, the staff at Bemka offered me "foie gras torchon," which I learned after eating it is another word for duck liver. Despite it's exotic source, it was rather good, with a soft texture that would be great as a spread on crackers or even served alone.
You can learn more about Bemka – House of Caviar and Fine Foods by visiting their website, Bemka.com, and following them on Facebook and Twitter.