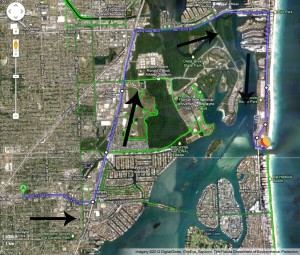 I have quite a few photos to go through before I can write about and post photos from my recent weekend camping trip to Jonathan Dickinson State Park. In the meantime, I came across photos from a bike route I took from the heart of North Miami to Haulover Beach Park. My sister bought me a CamelBak® Rogue™ for Christmas last year which I loaded up with cold water and I road, appropriately enough, my mom's beach cruiser to make my trek.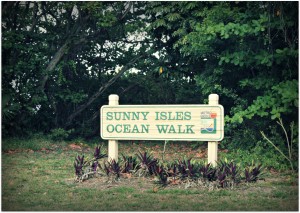 After going north on Biscayne Boulevard, I made my way east towards the beach along Sunny Isles Boulevard. Along the way, I passed Oleta River State Park which is another great place in South Florida. (I'm sure one of us will write about it in an upcoming post!) After making my way over the bridge, I went south on Collins Avenue until I saw a sign for Sunny Isles Beach Walk (on the east/beach side) and the beginning of the bike path.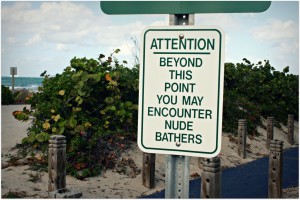 You can find a place to lock up your bike at Haulover Beach, drop your trousers and sunbathe at the clothing optional section of the beach or be a prude and continue on the bike path as I did. There are many picnic tables available in the grassy part of Haulover Beach Park but get there early on weekends!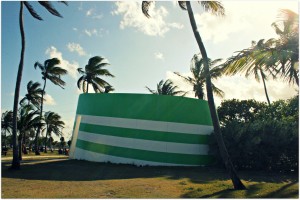 One of the cool things on this bike path, strangely enough, are the showers. They stand out with their interesting architecture and are painted with bright, bold patterns.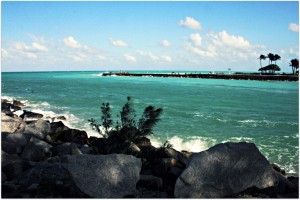 The end of the bike path is at an inlet where many people fish off of. I've taken a slightly different route at night which takes you towards the opposite side of the inlet and you'll see people fishing at all hours of the night as well. On this particular day, the water and sky were both a beautiful shade of blue and I made my way back with the sun and a smile on my face.
Haulover Beach Park
10800 Collins Avenue
Miami Beach, Florida
305.947.3525 ‎
http://www.miamidade.gov/parks/parks/haulover_park.asp