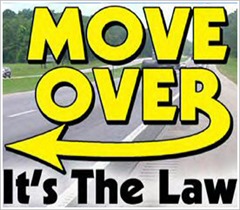 A new law that will come into effect on July 1, 2013 states that any motorist in the left lane driving 10 mph or more slower than the posted speed limit must get out of the way of someone trying to pass – or face a $60 ticket.
The "Move Over" bill was signed into law by Governor Rick Scott as a supposed way to reduce road rage on the highways in Florida.
Governor Jeb Bush vetoed a similar bill called the "Road Rage Reduction Act" in 2005, claiming he didn't understand why the state would punish a motorist who was not speeding.
I usually don't side with a lot of new laws, but this is one I can support.
I've always said that slow drivers can be more dangerous on the highway than faster ones because people need to switch lanes quickly to avoid slowing down behind them, thus more chances for an accident to occur when cars weave into each other's lanes.
Then again, I also believe the act of pulling someone over on the highway creates dangerous traffic conditions as well.